Agri-tag
Show your pride in Kansas agriculture with an Agri-Tag license plate!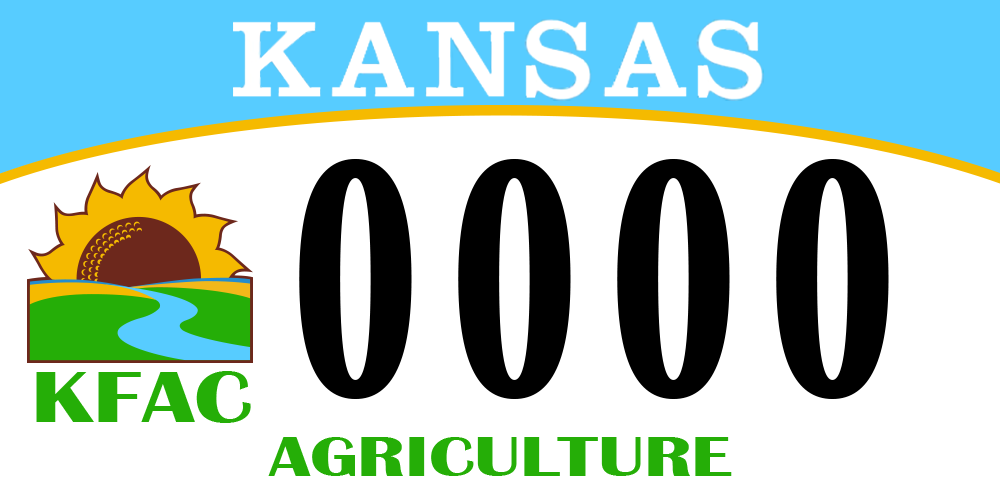 What is Agri-tag?
Agri-Tag license plates promote the #1 industry in Kansas and support the statewide K-12 agricultural literacy program, Kansas Foundation for Agriculture in the Classroom (KFAC). KFAC is a statewide educational program providing resources, training, and support for schools, educators, and volunteers to spark meaningful connections between classrooms and Kansas agriculture.
Who can buy an Agri-tag?
Anyone with a car or truck registered in Kansas can purchase an Agri-tag. The vehicle weight limit is 20,000 pounds.
What does an Agri-tag cost?
As of January 1, 2023, the cost for an Agri-Tag license plate is an annual donation of $40 for each vehicle. The first time you purchase an Agri-Tag you will pay a one-time specialty plate charge of $48.50 plus applicable fees to your county treasurer.
How do I get my Agri-tag?
To get an Agri-tag, simply visit your county treasurer and let them know you're interested in an Agri-Tag! The $40 donation will be sent to us via the treasurer's office.
If you're already an Agri-Tag owner, you may renew through your county treasurer.
Is my payment tax deductible?
Your $40 donation to the Foundation each year is completely tax-deductible. As with any specialty license plate, there is a non-tax deductible one-time fee of $48.50.
If I have questions about the Agri-tag program, who do I contact?
Please email info@ksagclassroom.org or contact your local county treasurer.