News
Ag Academy teacher Barbara McCaffree named ag foundation's teacher of the year; two teachers win awards
December 2, 2022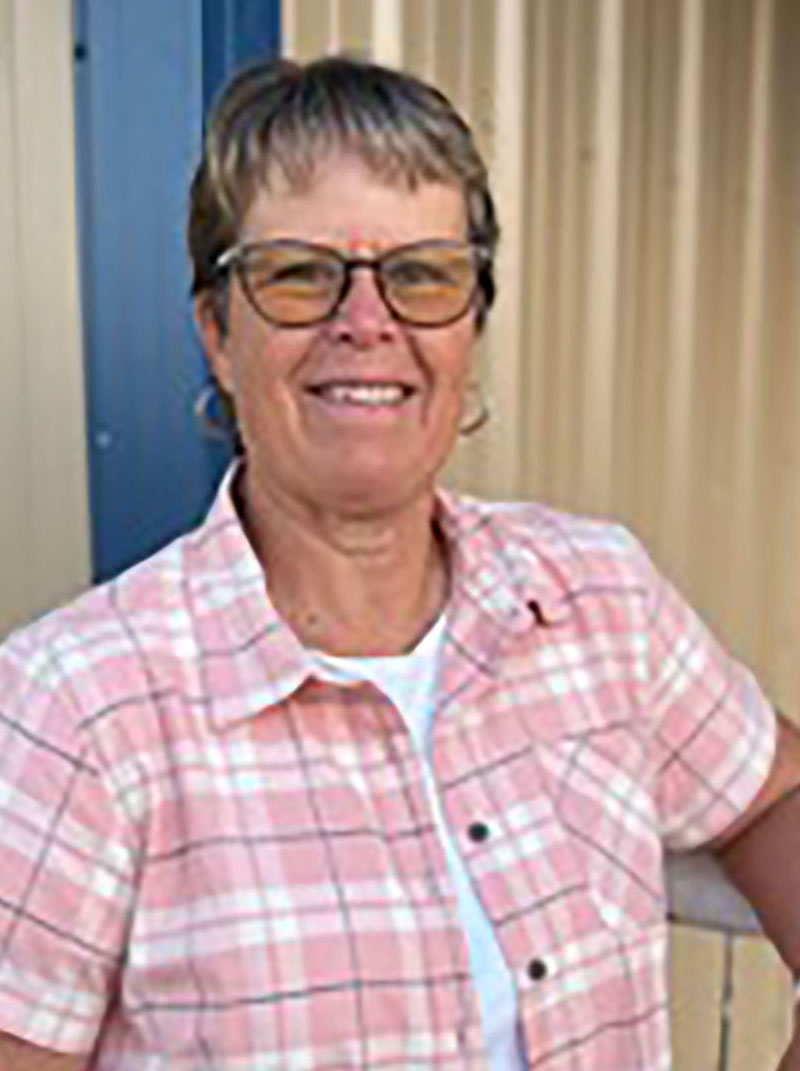 MANHATTAN, KANSAS, December 2, 2022 – Barbara McCaffree, early childhood through sixth-grade teacher at Bluestem Elementary in Leon, was recently named the 2023 Kansas Foundation for Agriculture in the Classroom (KFAC) Teacher of the Year.
KFAC's Teacher of the Year award recognizes teachers who instill a passion for learning about agriculture within their students. KFAC honors one teacher annually who has successfully integrated agricultural education into their pre-existing curriculum.
McCaffree is in her 37th year of teaching, where she has been incorporating agriculture into classes since 2005. She continues to expand her agricultural lessons each year for early childhood through sixth-grade students through Bluestem's Ag Academy.
In 2019, McCaffree started Ag Academy in order for every student PreK-6th to be able to learn from her about agriculture. She incorporates general agriculture, soil science, sheep, goats, horses, beef, pork, poultry, and crops into her curriculum while advancing the curriculum for each grade level. McCaffree starts each unit with some form of hands-on experience to engage the students.
The 4th-6th grade classes handle the chores that take care of the animals' health, nutrition, and sanitation twice a day. Students also weigh the calves weekly to chart their progress and reassess feed rations.
"My goal is not to make all students farmers and ranchers, but to have the students appreciate how farmers and ranchers affect each of us," McCaffree says. "Everyone needs to know where their food and clothes come from."
Students at Bluestem have the opportunity to learn many life skills through the teachings during Ag Academy classes that can help them in the future. The students plant, grow and prepare the plants and vegetables for the two annual plant sales they host. The community, as well as the local FFA chapter, is actively involved and always looking for ways to help and donate.
McCaffree will be recognized during the 2023 KFAC Annual Meeting to be held in Manhattan in early 2023 and will receive an all-expense paid trip to the 2023 National Agriculture in the Classroom conference in Orlando, Florida. McCaffree will also be considered for the 2023 National Excellence in Teaching About Agriculture Award, presented by National Agriculture in the Classroom.
Kansas Farm Bureau Foundation for Agriculture Excellence in Teaching Awards
In addition to the KFAC Teacher of the Year, two teachers will be awarded an Excellence in Teaching award sponsored by the Kansas Farm Bureau Foundation for Agriculture. The Excellence in Teaching awards are given to exemplary teachers who integrate agriculture into their classroom lessons and curriculum.
Carla Varner is a fifth-grade teacher at Blackmore Elementary in El Dorado, Kansas. She likes to use real-world examples to incorporate agricultural concepts into the classroom. The highlight of the year for her students is the annual trip to her family farm, where students see all of the machinery, animals, and farmland in person.
Shelby Taylor is a sixth-eighth-grade teacher at Thunder Ridge Middle School in Agra, Kansas. Taylor believes one of the biggest things we can do to encourage agriculture is to ensure that students understand how agriculture affects everyone, not just farmers. She does this by incorporating agriculture into science, financial literacy, STEM classes, and taking students to see agriculture in action through tours like the local ethanol plant.
Each of these winners will receive a $600 scholarship to attend the 2023 NAITC conference or a $200 gift certificate to purchase classroom supplies.
More information about these awards, including past winners, can be found on the KFAC website at www.ksagclassroom.org.
About Kansas Foundation for Agriculture in the Classroom
The Kansas Foundation for Agriculture in the Classroom is a 501(c)3 nonprofit organization. KFAC was founded in 1982 as part of a nationwide initiative to help students gain a greater awareness of the role of agriculture in the economy and society so that they may become citizens who support wise agricultural policies. For more information, visit www.ksagclassroom.org, email info@ksagclassroom.org, or phone (785) 320-4350.