News
2018 Teacher of the Year Winner
May 5, 2018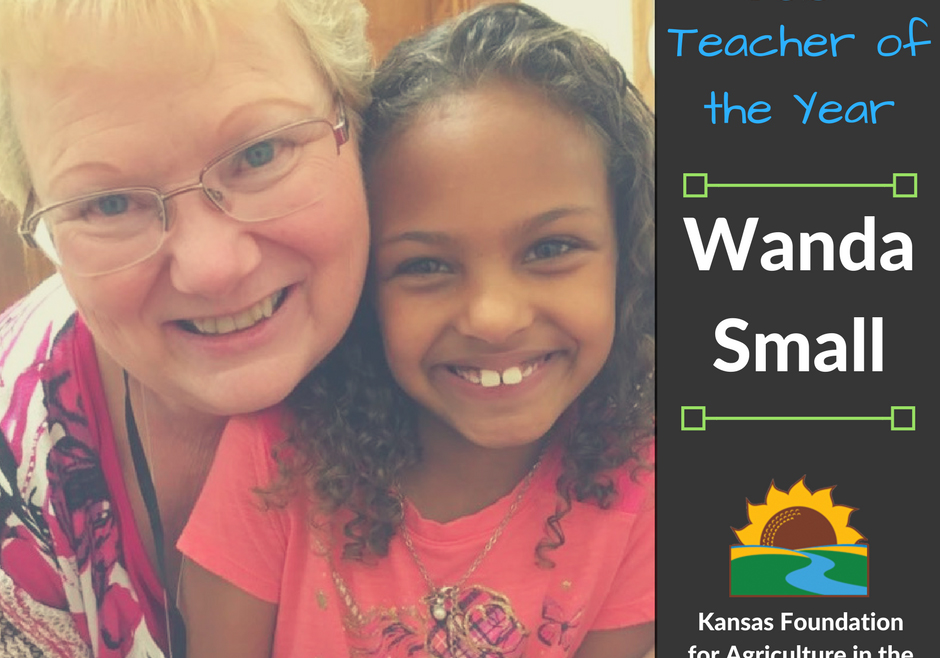 MANHATTAN, KANSAS, May 5, 2018 – For Wanda Small, incorporating agriculture in her classroom is second nature. Having grown up on a dairy and grain farm in Atchison County, Small was no stranger to agriculture or education as she decided to pursue her teaching career.
"Growing up as a 4-H'er who 'taught' others through demonstration and having several relatives who were elementary teachers inspired me," she said. "It was my calling and I am still learning as my students learn!"
Small has worked in the education field for 25 years, spending the last 17 on faculty at USD 377 at the Atchison County Community Elementary School in Muscotah, Kan. With experience teaching second and fourth grade, Small is now leading her school's Project Based Learning STEAM (science, technology, engineering, art and agriculture, math) classes for grades K-6.
She credits her approach on teaching STEAM classes to her life on the farm.
"Growing up on a farm taught me how to be curious, take risks, solve problems and learn from failure through hands-on experiences with the soil, plants and animals," Small said. "I want these things for my students so I offer them opportunities through agriculture in STEAM."
Small says her students take on the roles of scientist, technicians, engineers, artists and mathematicians while simultaneously building a foundation in agriculture through facts about food, fuel and fiber in addition to how the world depends on agriculture by-products crucial to daily life.
"My agriculture background was all hands-on and that is how I want my students to learn," she said.
In addition to helping students understand the importance of agriculture, Small also gives them a glimpse into entrepreneurship through a lip balm project. Students learn the entire process from producing the lip balm from beeswax and soybean oil to packaging, marketing and selling the final product.
The lip balm is sold at school functions and a local convenience store and restaurant in Muscotah. The money earned through this project has helped the school purchase two rain barrels, a calf hutch and a farmer's market cart.
Small is also heavily involved with her school's Outdoor Learning Campus (OLC). As one of the grant writer's for the OLC, through grants Small has been able to acquire raised garden beds, an outdoor classroom shelter, a garden shed with tools, an apple and pear orchard and wildflower beds to encourage wildlife and pollinators.
The school is hoping to add a greenhouse to that list in the future through another grant Small and her writing committee are crafting. Their plans for the future also include incorporating a chicken coop with chickens as well as a barn and shelter for beef, sheep and goats.
"We want students to know these animals are not pets and will be part of the food chain," Small commented. "We have established committees within our community and continue to make connections with farmers for the success of our students and helping them understand this."
While maintaining an outdoor learning center and keeping students engaged in her STEAM classes may seem like a heavy load, Small says that it's quite the opposite.
"Using agriculture in my classroom has sparked passion into my teaching that creates energy and elevates excitement for my students," she said. "The way I teach agriculture helps students increase skills in all academic areas, so I feel as though I am a better teacher for it."
Small's resume would agree.
In 2017, Small earned her school a "Sunflower Spotlight" and the school will be recognized by the Child Nutrition and Wellness team at Kansas State Department of Education in October. Small was also one of ten teachers in the nation to be selected for the 2017 Henry Ford Innovative Teacher award, is the 2017 Atchison County Community Teacher of the Year and was nominated as a 2018 Teacher of the Year for the state of Kansas.
Additionally, Small was recently named the 2018 KFAC Janet Sims Memorial Teacher of the Year. This award recognizes outstanding K-12 teachers in a non-v
ocational agriculture program for their innovation in agriculture literacy. Small is constantly adding to her agriculture toolbox through various professional development events including KFAC's summer institutes and the National Agriculture in the Classroom (NAITC) conference held in Kansas City in June 2017. As the KFAC Teacher of the Year award recipient, Small will also attend the 2018 NAITC conference in Portland, Maine, courtesy of High Plains Journal and AG am in Kansas.
When asked why she feels its important for children to learn about agriculture, Small's response was simple – to make the world a better place.
"I don't teach agriculture to turn everyone into a farmer, but I feel it is very important to get them hooked into the parts of agriculture they love at an early age," Small said. "When kids grow up learning about agriculture and sustainability it will impact the world to be a better place."
Small can be reached at small.wanda@usd377.org.